WIRE ROPE DRESSING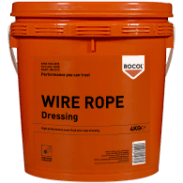 WIRE ROPE DRESSING
Product Description
High performance semi-fluid wire rope dressing grease providing excellent corrosion protection in multiple environments including saltwater and under water.
Temperature range of -30C to +100C.
Sufficiently fluid enough to penetrate through the strands to the core of the rope whilst being sufficiently greasy to resist fling off.
Exhibits excellent lubrication properties which reduces wear on the wires and strands thereby maximising the service life of the rope.
Highly resistant to water wash-off and offers outstanding corrosion protection.
Provides a thin, non-tacky film which prevents the build-up of dust and dirt on the wire rope.